Carrick Bathrooms
Bespoke Bathroom design in Ayr
Give your bathroom a new look
Are you looking for a traditional bathroom? Or do you prefer a modern, contemporary look? No matter what kind of bathroom you'd prefer, the experts at Carrick Bathrooms Ltd will help you with your project from design through to completion. You can trust our team to provide a high standard of service every time you choose us. We pride ourselves on our high-quality workmanship. Whether you need to renovate your old bathroom or give it a complete makeover, we are here to help. Get in touch with our friendly staff today for a free quote.
Complete service from start to finish
Complete service from start to finish
Our service is tailored to your requirements whether you are looking for small alterations or a complete installation. We work closely with our customers to plan and design a bathroom that suits their individual needs and budget. For more information, contact our team today. 
Over 30 years of experience
Personalised and reliable services
Friendly and qualified team
Professional and high-quality services
Free, no-obligation quotes
Competitive prices
Experienced bathroom designers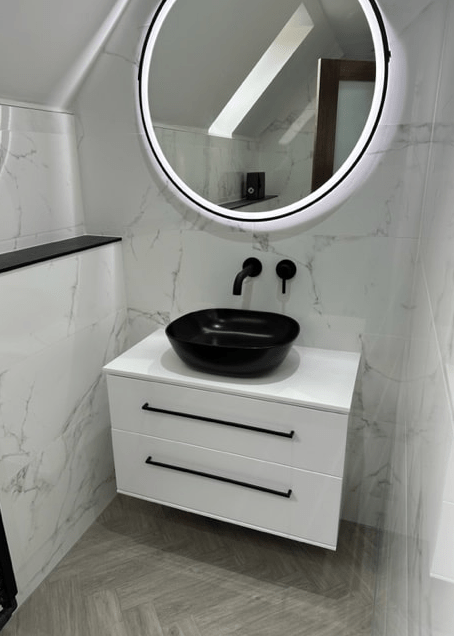 Experienced bathroom designers
If you have a design in mind for your bathroom, we can make it a reality. Our trained staff can also work with you to come up with a functional and modern design idea, and then install a full bathroom in your property. For more details on our work, get in touch with us today.
We have just had the pleasure of having our bathroom upgraded by Neil of Carrick. He did a wonderful job and was the tidiest and most professional workman we have ever encountered.The whole company are just great thank you Neil for everything.